Tuckasegee
River
Large-size tailwater river
Location The 'Tuck' runs the full width of Swain County. Easy to moderate access on US Hwy 19 from Whittier to below Bryson City.
Species Brown Trout, Rainbow Trout, Smallmouth Bass, Kentucky Spotted Bass, Walleye, Steelhead, Muskie, Crappie, Bluegill, Yellow Perch, White Bass, Catfish
License Requirements NC fishing license with a trout stamp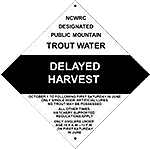 DELAYED HARVEST NC Wildlife Resources Commission designated 2.2 miles of the Tuckasegee River in downtown Bryson City as Delayed Harvest Trout Waters. The DH Waters are from the US 19 bridge (at Darnell Farms) to the Slope Street bridge in town. Regulations for DH Waters are in effect from October 1 until the first Saturday in June. DH Map & Regulations.
TUCKASEGEE River The cold, clean, emerald green waters of the Tuckasegee River are home to a wide variety of fish. The river's name comes from the Cherokee word meaning "turtle", because of its slow moving waters. Here you will find more species of fish than any other river in Swain County. Great access to the river via many public entry points, and fantastic sections for wading or floating drift boats and canoes alike.
The "Tuck" offers something for everyone with many deep pools, rocky sections, riffles and runs. Catch rainbow and brown trout all year long on flies and spin tackle. Spring runs of walleye, steelhead, and white bass start below Bryson City in late March and continue into late May. From May until mid-October catch trophy-sized smallmouth bass, rainbow trout and spotted bass along the many different water types.
The river is home to the biggest smallmouth bass in the Smoky Mountain region, most averaging 16-20 inches with some going upwards of 8 pounds! One surprising fish that swims the Tuck are steelhead. Stocked in the mid to late 1970s in Fontana Lake, landlocked steelhead make their runs upriver in late April to spawn and live out the summer months in the Tuckasegee.