In The News
FISHING THE NC SMOKIES
Before fishing in the Smoky Mountains of North Carolina, you might enjoy these articles written about the area.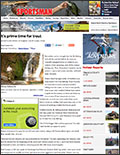 North Carolina Sportsman - November 13, 2014 blog article by Robert Satterwhite. "It's prime time for Trout: Streams are empty of anglers, full of hungry trout." Read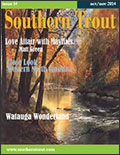 Southern Trout - October/November, 2014 issue. "Close Look at Western North Carolina". 4 page article by Ed Rivers, that begins, "As these things go, no community in the Southern Highlands has a trout fishing tradition as that found in Bryson City, North Carolina." Read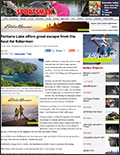 North Carolina Sportsman - October 3, 2014 blog article by Phillip Gentry. He writes, "In a few weeks, the mountains of western North Carolina will be crawling with leaf watchers who will look up at the beauty and most likely miss the action going on down below at Lake Fontana." Read
Union Sportsmen's Alliance - September 26, 2014 blog article by Beau Beasley. Beasley writes, "Over the course of my visit, in addition to teaching me the tight line technique, (Eugene) Shuler introduced me to hundreds of North Carolina river miles. All the eager angler has to do to take advantage of that bounty is head to Swain County with a state fishing license and a little bit of patience."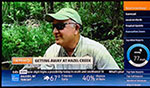 Hazel Creek Featured on The Weather Channel – TWC came to Swain County for a travel segment on fishing in the Great Smoky Mountain National Park. They followed local fishing guide Steve Claxton up Hazel Creek on a rewarding quest for wild mountain trout. The two-minute segment aired on June 12, 2014.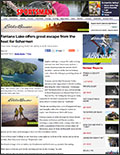 North Carolina Sportsman – June 23, 2014. In an article entitled "Fontana Lake offers great escape from the heat for fishermen: Trout, bass, bluegill giving fishermen plenty to write home about," NC Sportsman writer Craig Holt takes a trip to Fontana and visits with Mark Stephenson of Almond Boat Park. Holt writes, "Anglers wishing to escape the early arriving summer heat don't have many options — except mountain lakes in western North Carolina – and one of the best is Fontana Lake, where the fishing is providing plenty of action." Read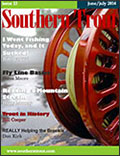 Southern Trout – June/July, 2014 issue by Ed Mashburn. A great article about fishing in the area, with some super comments about Bryson City and some of the local businesses, as well as our new website. Read
Native brook trout make a mountain comeback – A 2014 article in the Asheville Citizen-Times describes the successful efforts to restore the habitats of Western North Carolina's' only native trout. — In Great Smoky Mountains National Park, biologists have restored 11 streams, totaling 28 stream miles, for brook trout since 1993. The park now has 105 miles of stream where brookies are the only trout present and another 95 miles that contain a mix of brook, brown and rainbow trout.